Emma Leah came to live with us on December 5, 2008. I introduced her on the FDMB as the perfect kitten--she likes people, she likes cats, she eats well, knows where to poop and pee, alert, attentive, smart, and cuddly.
But sometimes, God needs the babies. She left us yesterday, in organ failure, likely from dry FIP.
Emma loved the other kitten adopted with her, Casey. Despite their size differences, they ate, slept, and played together.
Emma started to become sick shortly after her second FeLV vaccination. She stayed with us another 10 weeks, but she was different, and as time went on, we knew she was sick.
So we will try to remember the three brief month of health she shared with us.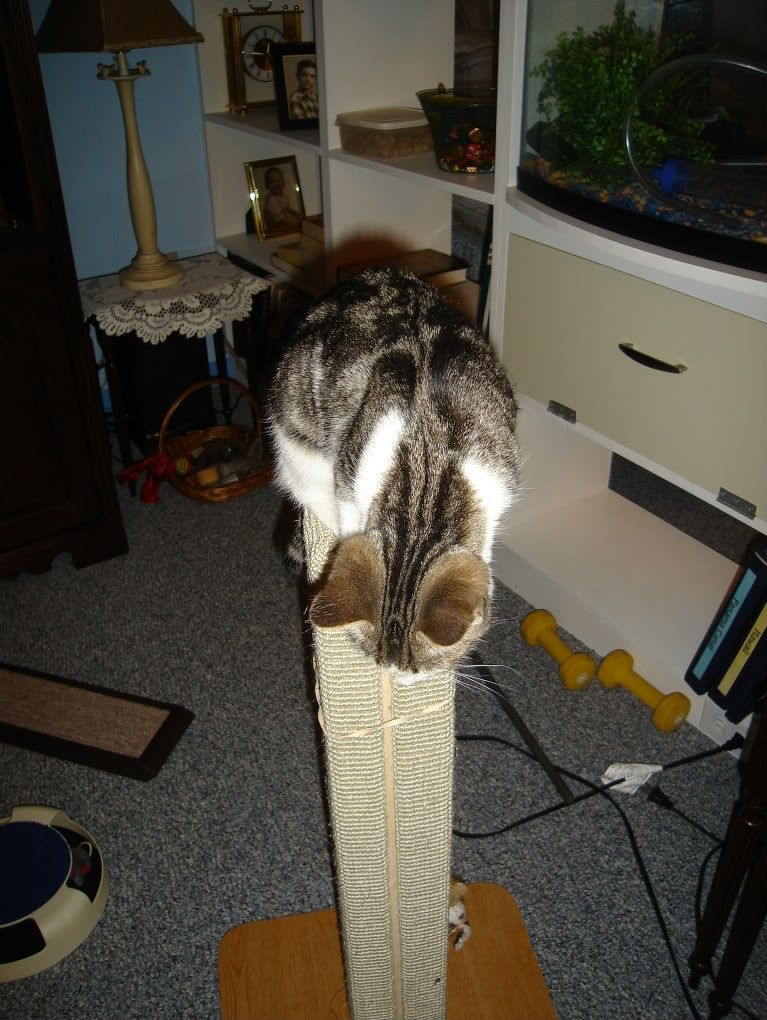 Emma Leah fully embraced her scratching post, making it a jungle gym as well as a place to get manicures. She was very careful with her nails, never using them on people or other inappropriate items.
Emma was just getting to that stage of growth where her tail lengthens to adult size, and she would have to grow into it. She used her tail to converse, to play with Casey, and to wrap precious self.
Emma loved to cuddle for naps. This was often my view of her as she took to my lap.
She would jump onto my back when I cleaned the litter boxes. She would join me in the shower, staying safely on the tub edge behind the clear vinyl shower liner. She made the orange kitty bed I got for Casey her own, and her woolie, nursing on it unrelentingly.
Emma was the ultimate explorer of all things permitted (and early on, unpermitted). Here she is trapped in Jim's shower.
Emma often slept under the covers with me, in my armpit, at my waist, or behind my knees. Many night I fell asleep sitting up, and when I awoke, there she was on my lap.
She loved to eat. She made a game of running to the feeding spot at meal time, and always made sure she shared everyone else's plates.
Her favorite toys had feathers on them. She fancied herself quite a birder.
She was a little overwhelmed by Ennis's massive size, and would gentle push him away, or leave the bed, when he came to close. This is a rare picture of the two of them together.